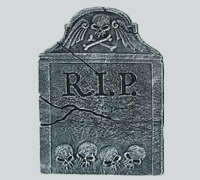 ---
DIRT NAP #1
1. Perry Aguayo, Mexican Wrestler for Luche' Libra Extreme dies in the ring in Tijuana after Rey Mysterio Jr. delivered his "619" sweep kick through the ropes. Heart failure the cause, not the "kick". He was 26 and the son of a legendary Mexican Luche' Librador.

2. Lisa Colagrossi, Longtime news reporter for WABC-TV 7 New York City dies in a cab ride while on assignment. Brain aneurysm is to blame. She was 49 & the daughter of one of NYC's reputed crime bosses.

3. AJ Pero - drummer of the metal band Twisted Sister dead of a heart attack at 55. Died on the group's tour bus... sorta all twisted up...


Sorry, this page does not exist.