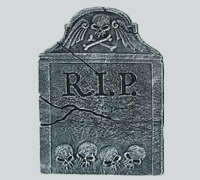 ---
DIRT NAP #1
1. MOLLIE SUE WILBORN OWENS, passed away at her home. Mollie Sue attended Scottsboro High School. When her husband, Doyle, decided to open a business selling lost airline luggage and their contents to the public, Unclaimed Baggage was born. She was 80.

2. KENNY STABLER, former QB of the Super Bowl Champion Oakland Raiders & National Champion Alabama Crimson Tide has died at his home in Grand Bay from complications of "Stage 4" colon cancer. He was 69.

3. IRWIN KEYES, an actor with credits ranging from "The Jefferson" to "The Flintstones in Viva Rock Vegas," has died at age 63. Keyes appeared in a number of horror films, including "House of 1000 Corpses", "Dahmer vs. Gacy", "The Exterminator" and TV credits "Police Squad," "Married... With Children," "Growing Pains" and "CSI."


MONDAY THRU THURSDAY-
Midnight - 5AM:

"No Talk" Overnights

5AM - 9AM:
Mornings on the Fun House with Michael St. John & Lee Masters. News, weather, traffic, sports. Never a dull moment! Birthday Club, Joke of the day, Fun Horoscopes & Entertainment news.
9AM - 2PM:

Downtown Ed Brown

2PM - 7PM:

Bobby Knight

7PM - Midnight:
Buster Bradley
FRIDAY
Midnight - 5AM:

"No Talk" Overnights

5AM - 9AM:
Mornings on the Fun House with Michael St. John & Lee Masters. News, weather, traffic, sports. Never a dull moment! Birthday Club, Joke of the day, Fun Horoscopes & Entertainment News.
9AM - Noon:

Downtown Ed Brown

Noon - 1PM:

The "BEATLES BRUNCH" - hosted by Jay Johnson

1PM - 2PM:

Downtown Ed Brown

2PM - 7PM:

Bobby Knight

7PM - Midnight:

Buster Bradley

SATURDAY
The "Way-Back" "Million Dollar Weekend"
Midnight - 6AM:

"No Talk" Overnights

6AM - 10AM:

Downtown Ed Brown

10AM - 3PM:

Bobby Knight

3PM - 8PM:
Buster Bradley
8PM - Midnight:
"DJ Dee See's Saturday Night Dance Party"
SUNDAY
Midnight - 5AM:

"No Talk" Overnights

5AM - 9AM:

"Rewind with Gary Bryan"

9AM - 12PM:

"Goddard's Gold" with Steve Goddard

12PM - 4PM:
"America's Greatest Hits" with Scott Shannon

4PM - 7PM:
Charlie Tuna presents "The 70's"
7PM - 8PM:
"Remember Then" with Citizen Bill
8PM - Midnight:
"The Classic Countdown" with Dick Bartley