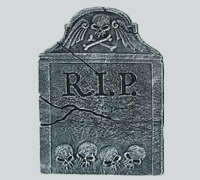 ---
DIRT NAP #1
1. Michele' Ferrero - Owner of Ferrero Chocolates & inventor of Nutella dies at 89.

2. Lesley Gore, singer of "It's My Party" has died at age 68.

3. Gary Owens - voiceover actor and legendary "Laugh In" hand-over- ear announcer. He was 80.


Sorry, this page does not exist.