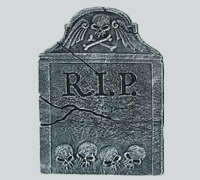 ---
DIRT NAP #1
1. MOLLIE SUE WILBORN OWENS, passed away at her home. Mollie Sue attended Scottsboro High School. When her husband, Doyle, decided to open a business selling lost airline luggage and their contents to the public, Unclaimed Baggage was born. She was 80.

2. KENNY STABLER, former QB of the Super Bowl Champion Oakland Raiders & National Champion Alabama Crimson Tide has died at his home in Grand Bay from complications of "Stage 4" colon cancer. He was 69.

3. IRWIN KEYES, an actor with credits ranging from "The Jefferson" to "The Flintstones in Viva Rock Vegas," has died at age 63. Keyes appeared in a number of horror films, including "House of 1000 Corpses", "Dahmer vs. Gacy", "The Exterminator" and TV credits "Police Squad," "Married... With Children," "Growing Pains" and "CSI."


PRIMARY LISTENING AREA
Transmitting from atop Brindlee Mountain, 20 minutes south of Huntsville Al, FUN 92.7 FM encompasses an eight county primary listening area of over 350,000 people, Operating at 6000 watts, the full power Class A FM covers, Madison, Marshall, Morgan, Dekalb, Jackson, Blount, Etowah and Cullman counties. FUN 92.7 FM is one of the top 10 "most listened to Oldies" Stations online.
ABOUT US
Staffed by Professionals with major market savvy and experience, Fun 92.7 offers outstanding, targeted, local programming: Comprehensive marketing strategies: award-winning copy: and state-of-the-art production facilities.
FUN MEDIA GROUP INC.
981 BRINDLEE MTN PKWY, P.O. BOX 1297 ARAB AL. 35016 256-586-9300. www.fun927.com.1-800-867-9270