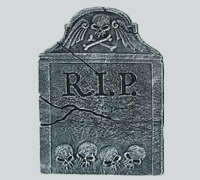 ---
DIRT NAP #1
1. GEORGE "Foghorn" WINSLOW. also known as George Karl Wentzlaff, died in his California home. Winslow, earned the nickname "Foghorn because of his unique raspy voice , appeared in dozens of films before calling it quits at the age of 12. He appeared in several movies and TV shows in his short career including "Gentlemen Prefer Blondes," "Artists and Models" and many others. George Winslow was 60.

2. PATRICK McNEE, The British actor best known for playing John Steed in the 1960s television series "The Avengers" has passed away. He had many roles including a 1985 roll as an ally to Roger Moore in the James Bond movie "A View to a Kill." He was 93.

3. CHRIS SQUIRE, Co-founder and Bass player of the band "Yes" has died. He had taken a hiatus from the band in May when he was diagnosed with leukemia. He was 67.


PRIMARY LISTENING AREA
Transmitting from atop Brindlee Mountain, 20 minutes south of Huntsville Al, FUN 92.7 FM encompasses an eight county primary listening area of over 350,000 people, Operating at 6000 watts, the full power Class A FM covers, Madison, Marshall, Morgan, Dekalb, Jackson, Blount, Etowah and Cullman counties. FUN 92.7 FM is one of the top 10 "most listened to Oldies" Stations online.
ABOUT US
Staffed by Professionals with major market savvy and experience, Fun 92.7 offers outstanding, targeted, local programming: Comprehensive marketing strategies: award-winning copy: and state-of-the-art production facilities.
FUN MEDIA GROUP INC.
981 BRINDLEE MTN PKWY, P.O. BOX 1297 ARAB AL. 35016 256-586-9300. www.fun927.com.1-800-867-9270