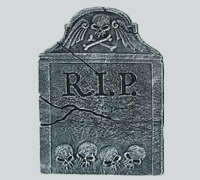 ---
DIRT NAP #1
1. Perry Aguayo, Mexican Wrestler for Luche' Libra Extreme dies in the ring in Tijuana after Rey Mysterio Jr. delivered his "619" sweep kick through the ropes. Heart failure the cause, not the "kick". He was 26 and the son of a legendary Mexican Luche' Librador.

2. Lisa Colagrossi, Longtime news reporter for WABC-TV 7 New York City dies in a cab ride while on assignment. Brain aneurysm is to blame. She was 49 & the daughter of one of NYC's reputed crime bosses.

3. AJ Pero - drummer of the metal band Twisted Sister dead of a heart attack at 55. Died on the group's tour bus... sorta all twisted up...


PRIMARY LISTENING AREA
Transmitting from atop Brindlee Mountain, 20 minutes south of Huntsville Al, FUN 92.7 FM encompasses an eight county primary listening area of over 350,000 people, Operating at 6000 watts, the full power Class A FM covers, Madison, Marshall, Morgan, Dekalb, Jackson, Blount, Etowah and Cullman counties. FUN 92.7 FM is one of the top 10 "most listened to Oldies" Stations online.
ABOUT US
Staffed by Professionals with major market savvy and experience, Fun 92.7 offers outstanding, targeted, local programming: Comprehensive marketing strategies: award-winning copy: and state-of-the-art production facilities.
FUN MEDIA GROUP INC.
981 BRINDLEE MTN PKWY, P.O. BOX 1297 ARAB AL. 35016 256-586-9300. www.fun927.com.1-800-867-9270