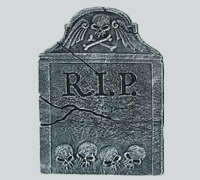 ---
DIRT NAP #1
1. US actress MARILYN BURNS, best known for her "scream queen" role in 1974 horror classic The Texas Chainsaw Massacre, dies in Houston, Texas.

2. CHARLES KEATING, who played Carl Hutchins on "Another World," for years band was known for his work on soap operas like "All My Children" (as Dr. Damon Lazarre), "As the World Turns" (as Niles Mason) and "Port Charles" (as James Ritchfield) is gone after a long battle with cancer. He was 72 years old.

3. ROBIN WILLIAMS is gone at the age of 63. He passed away at his home in Tiburon, CA, of an apparent suicide, but the sheriff's department is still investigating. He had been "battling severe depression of late" and called it a "tragic and sudden loss."


To List an item, click here.
2014 MONTE SANO ART FESTIVAL

The 2014 Monte Sano Art Festival will be held on September 20th. The event features the regions finest artists 130 total exhibiting in an array of wonderful media including painting, pottery, jewelry, photography and much more. For more info visit montesanoartfestival.com

STILL SERVING VETERANS ANNUAL GOLF TOURNAMENT

The Still Serving Veterans 9th Annual Golf Tournament will be held Monday October 6th. The event will be held at Cherokee Ridge Golf Course with a 9am shotgun start. Prizes for 1st-3rd place teams. Visit www.stillservingveterans.org or call 256-883-7166 for more information.

CAHABA SHRINERS

Cahaba Shriners 12th Annual Sportsmanís BBQ and Gun Giveaway is set for October 11th at the Cahaba Shrine Center Blake Bottom Rd Huntsville, Al. Doors open at 11am. For information call 256-851-7400.

CROSSING PATHS ANIMAL RESCUE

CROSSING PATHS ANIMAL RESCUE finds homes for hundreds of Blount County dogs every year if there are foster homes to house them for a short time. If you are interested in being foster parents to a homeless dog, call 205-559-7648. All food and medical care is provided while the dog is in foster care.

FILLING STATION 56

FILLING STATION 56 is a Soup Kitchen in Blountsville on Main at the red light, that offers a free meal every Saturday at 5. The group is a nonprofit organization, health department approved, and accepts donations and volunteers to work. Phone 205-353-5955 for more information.

LAST CALL ANIMAL RESCUE

The LAST CALL ANIMAL RESCUE in Guntersville is in need of donated items for their mission to rescue horses. Items needed include hay, feed, shavings, saddles, bridles, blankets, reins, towels and the like. Anyone interested in helping out can contact 256-505-0022 for more details.

MOUNTAIN VALLEY ARTS COUNCIL

The MOUNTAIN VALLEY ARTS COUNCIL will be hosting a travelling Art Show for the entire 2014 year throughout Marshall County. Local artists will be featured with the first venues being at the Albertville and Grant Libraries. Times and details at 256-571-7199.

SECOND CHANCE ANIMAL SHELTER

SECOND CHANCE ANIMAL SHELTER needs your help. They need dog food, feeding bowls, newspapers, and dog toys. Drop Off/ Collection Center is at Bancorp South in Boaz. For info call 256-561-2411