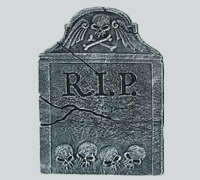 ---
DIRT NAP #1
1. BEN E. KING - Soul Singer from the 60's with over 21 songs in the Billboard Hot 100 during his lifetime. Was an original member of the Drifters in the 50's. Dead of Lung Cancer.

2. GRACE LEE WHITNEY, futuristic, clipboard -bearing "Yeoman Janice Rand" in the original "Star Trek" series died in her hometown of Coarsegold, CA. She was 85.

3. NIGEL TERRY - played King Arthur in "Excalibur" dies at age 69 of emphysema.


To List an item, click here.
BOAZ LIBRARY

The BOAZ LIBRARY is offering an After School Program on the 3rd Thursday of every month through May. The program is open to children ages 6 to 12. Get more information by calling 256-593-3000.

MENTAL HEALTHCARE of Cullman

MENTAL HEALTHCARE of Cullman is asking for donations to their "Emergency Assistance Fund". The number of critical needs cases are up and they need your help. Get details on how you can donate by calling 256-734-4688.

CULLMAN COUNTY ANIMAL SHELTER

The CULLMAN COUNTY ANIMAL SHELTER's "Foster Pets Program" is in need of volunteers able to take the animals to vet appointments. Also, supplies such as cleaning items are need. If you would like to help, contact 256-734-5448. Remember, off-site adoptions available every Saturday from 11 to 4 at Tractor Supply and Pet Depot in Cullman.

SECOND CHANCE ANIMAL SHELTER

SECOND CHANCE ANIMAL SHELTER needs your help. They need dog food, feeding bowls, newspapers, and dog toys. Drop Off/ Collection Center is at Bancorp South in Boaz. For info call 256-561-2411