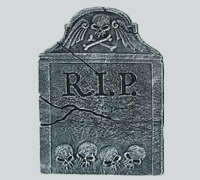 ---
DIRT NAP #1
1. R&B Singer BOBBY WOMACK has died. Age 70.

2. Hollywood Actor MESHACH TAYOR has died at age 67. Best known for his role as "Anthony" on "Designing Women".

3. Former Auburn Tight End PHILIP LUTZENKIRCHEN died of his injuries suffered in a car crash outside of Atlanta in Troup County. He was 23.


To List an item, click here.
HUNTSVILLE PHOTOGRAPHIC SOCIETY

The HUNTSVILLE PHOTOGRAPHIC SOCIETY "Members Showcase" is now on display at the Huntsville Museum of Art through August 4th. A juried selection of over 50 photographs are shown. Times and details at 256-534-1480.

LAST CALL ANIMAL RESCUE

The LAST CALL ANIMAL RESCUE in Guntersville is in need of donated items for their mission to rescue horses. Items needed include hay, feed, shavings, saddles, bridles, blankets, reins, towels and the like. Anyone interested in helping out can contact 256-505-0022 for more details.

MOUNTAIN VALLEY ARTS COUNCIL

The MOUNTAIN VALLEY ARTS COUNCIL will be hosting a travelling Art Show for the entire 2014 year throughout Marshall County. Local artists will be featured with the first venues being at the Albertville and Grant Libraries. Times and details at 256-571-7199.