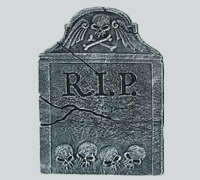 ---
DIRT NAP #1
1. FRANK GIFFORD, Pro Football Hall of Famer and broadcaster on "Monday Night Football" died of natural causes at his Connecticut home. He was 84.

2. TERRENCE EVANS, who appeared in TV shows and movies such as 'Star Trek' and 'Terminator 2: Judgement Day,' has died at age 81.

3. NASCAR great BUDDY BAKER has died from lung cancer. After winner 4x at Talladega & Charlotte and twice at Daytona & Darlington, he became a commentator for SiriusXM. He was 74.


To List an item, click here.
"Black Tie Charity Ball"

The "Black Tie Charity Ball" to benefit numerous military veterans organization will be held at the Von Braun Center on Tuesday, October 17th. Admission is $50 dollars per person. Information at 256-527-5992.

"Virtuous Ladies Conference"

The "Virtuous Ladies Conference" is coming the the UNION CHAPEL UNITED METHODIST CHURCH on Friday, October 23rd for a "Movie Night" and an all day conference Saturday the 24th. More details are available at 256-753-6654.

Bryson Strong 5K FITNESS WALK & FUN RUN

The Bryson Strong 5K FITNESS WALK & FUN RUN is set for Sunday, November 8th at 2pm at the Rainsville Civic Center. The run is to assist a young man who lost part of his left leg in an accident. Signups, donations and information is available at the "Bryson Strong 5K" Facebook page or by calling 256-996-7291.

CULLMAN COUNTY ANIMAL SHELTER

The CULLMAN COUNTY ANIMAL SHELTER's "Foster Pets Program" is in need of volunteers able to take the animals to vet appointments. Also, supplies such as cleaning items are need. If you would like to help, contact 256-734-5448. Remember, off-site adoptions available every Saturday from 11 to 4 at Tractor Supply and Pet Depot in Cullman.

SALVATION ARMY

SALVATION ARMY of Marshall County is in need of volunteers to man their Thrift Store in Arab. Proceeds from sales of items at the store help send over 60 children locally, to their Kids Camp in Lexington MA. Volunteer for their good and yours at 256-582-0536.

SECOND CHANCE ANIMAL SHELTER

SECOND CHANCE ANIMAL SHELTER needs your help. They need dog food, feeding bowls, newspapers, and dog toys. Drop Off/ Collection Center is at Bancorp South in Boaz. For info call 256-561-2411