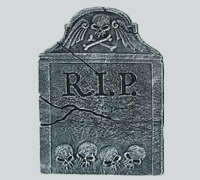 ---
DIRT NAP #1
1. Bandleader MILTON DELUGG has died. You probably know Milton best from the "The Gong Show" where he was "Milton Delugg and his band with a Thugg." Milton was a musical director for NBC led the "Tonight Show Band" in 1965 for one year. He was 96.

2. RALPH SHARON, TONY BENNETT's pianist and composer for nearly 45 years, has passed away at age 91. Ralph also arranged the classic "I Left My Heart in San Francisco." At his death, he immediately began decomposing.

3. DAN FERRELL, syndicated photographer for the New York Daily News who snapped the famous photo of John F. Kennedy Jr. saluting his father's casket has died. He was 91.


To List an item, click here.
The DAYSTAR CHURCH

The DAYSTAR CHURCH now offers "Divorce Care for Kids" – a program designed for ages 6-12 on Wednesday evenings at 7. The course is free and includes workbooks and materials. Contact the church office for more information at 256-737-0800.

BOAZ LIBRARY

The BOAZ LIBRARY is offering an After School Program on the 3rd Thursday of every month through May. The program is open to children ages 6 to 12. Get more information by calling 256-593-3000.

MENTAL HEALTHCARE of Cullman

MENTAL HEALTHCARE of Cullman is asking for donations to their "Emergency Assistance Fund". The number of critical needs cases are up and they need your help. Get details on how you can donate by calling 256-734-4688.

CULLMAN COUNTY ANIMAL SHELTER

The CULLMAN COUNTY ANIMAL SHELTER's "Foster Pets Program" is in need of volunteers able to take the animals to vet appointments. Also, supplies such as cleaning items are need. If you would like to help, contact 256-734-5448. Remember, off-site adoptions available every Saturday from 11 to 4 at Tractor Supply and Pet Depot in Cullman.

SECOND CHANCE ANIMAL SHELTER

SECOND CHANCE ANIMAL SHELTER needs your help. They need dog food, feeding bowls, newspapers, and dog toys. Drop Off/ Collection Center is at Bancorp South in Boaz. For info call 256-561-2411