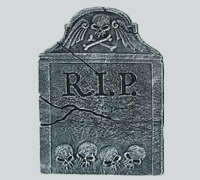 ---
DIRT NAP #1
1. MOLLIE SUE WILBORN OWENS, passed away at her home. Mollie Sue attended Scottsboro High School. When her husband, Doyle, decided to open a business selling lost airline luggage and their contents to the public, Unclaimed Baggage was born. She was 80.

2. KENNY STABLER, former QB of the Super Bowl Champion Oakland Raiders & National Champion Alabama Crimson Tide has died at his home in Grand Bay from complications of "Stage 4" colon cancer. He was 69.

3. IRWIN KEYES, an actor with credits ranging from "The Jefferson" to "The Flintstones in Viva Rock Vegas," has died at age 63. Keyes appeared in a number of horror films, including "House of 1000 Corpses", "Dahmer vs. Gacy", "The Exterminator" and TV credits "Police Squad," "Married... With Children," "Growing Pains" and "CSI."


To List an item, click here.
OLLI Summer Computer Camp

OLLI at UAH Summer Computer Courses for Adults 50+ - Learn how to sell on eBay, create your own greeting cards, organize and edit your pictures, or step up to Windows 8. Not sure you are ready? Start with learning basic computer skills. Join Osher Lifelong Learning Institute at UAH during June and July. $60 for the first course, $50 for each additional. Osher.uah.edu/ComputerCamp or 256.824.6383 for details.

Maxine Doherty
MARSHALL COUNTY BAMA CLUB

University of Alabama Athletic Director Bill Battle will address the MARSHALL COUNTY BAMA CLUB during their Kickoff Event on Thursday August 6th. Club members are currently raffling two season football tickets to the Tide's 2015 season including parking for only $20 bucks a chance. Info at MCBamaClub@gmail.com.

JUDY UPTON 5K

The inagural JUDY UPTON 5K is set for the Elementary School in Arab on Saturday August 8th. Entry fee is $20 dollars. A "JewJew" Fun Run starts at 8AM. More details online to timothyspitt@yahoo.com.

SUMMER IN THE CITY

The Albertville "SUMMER IN THE CITY" events wrap up on Saturday August 22nd with the "MAD Hoops 3 on 3 for Kicks" Tournament at the Rec Center. Registraition is now under way with teams entry fee set at $50 dollars. Tournament is double elimination. Details at 256-891-8202.

CULLMAN COUNTY ANIMAL SHELTER

The CULLMAN COUNTY ANIMAL SHELTER's "Foster Pets Program" is in need of volunteers able to take the animals to vet appointments. Also, supplies such as cleaning items are need. If you would like to help, contact 256-734-5448. Remember, off-site adoptions available every Saturday from 11 to 4 at Tractor Supply and Pet Depot in Cullman.

SECOND CHANCE ANIMAL SHELTER

SECOND CHANCE ANIMAL SHELTER needs your help. They need dog food, feeding bowls, newspapers, and dog toys. Drop Off/ Collection Center is at Bancorp South in Boaz. For info call 256-561-2411