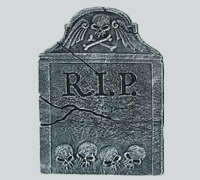 ---
DIRT NAP #1
1. Stage actress MARIAN SELDES has died. She was 86 and best known for her starring roles in plays written by Edward Albee. She also taught acting at the Julliard School and her students included Robin Williams and Kevin Kline.

2. Former SNL star JAN HOOKS died at age 57 of Ovarian Cancer. Jan was on "SNL" from 1986-1991, then later on "Designing Women" and had a part in "Pee Wee's Big Adventure".

3. SARAH GOLDBERG, who starred in the television series "7th Heaven" and in the film Jurassic Park III" has died at age 40 of a heart ailment.


To List an item, click here.
CROSSING PATHS ANIMAL RESCUE

CROSSING PATHS ANIMAL RESCUE finds homes for hundreds of Blount County dogs every year if there are foster homes to house them for a short time. If you are interested in being foster parents to a homeless dog, call 205-559-7648. All food and medical care is provided while the dog is in foster care.

FILLING STATION 56

FILLING STATION 56 is a Soup Kitchen in Blountsville on Main at the red light, that offers a free meal every Saturday at 5. The group is a nonprofit organization, health department approved, and accepts donations and volunteers to work. Phone 205-353-5955 for more information.

LAST CALL ANIMAL RESCUE

The LAST CALL ANIMAL RESCUE in Guntersville is in need of donated items for their mission to rescue horses. Items needed include hay, feed, shavings, saddles, bridles, blankets, reins, towels and the like. Anyone interested in helping out can contact 256-505-0022 for more details.

MOUNTAIN VALLEY ARTS COUNCIL

The MOUNTAIN VALLEY ARTS COUNCIL will be hosting a travelling Art Show for the entire 2014 year throughout Marshall County. Local artists will be featured with the first venues being at the Albertville and Grant Libraries. Times and details at 256-571-7199.

SECOND CHANCE ANIMAL SHELTER

SECOND CHANCE ANIMAL SHELTER needs your help. They need dog food, feeding bowls, newspapers, and dog toys. Drop Off/ Collection Center is at Bancorp South in Boaz. For info call 256-561-2411