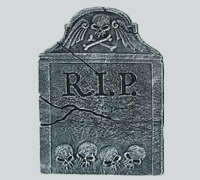 ---
DIRT NAP #1
1. Perry Aguayo, Mexican Wrestler for Luche' Libra Extreme dies in the ring in Tijuana after Rey Mysterio Jr. delivered his "619" sweep kick through the ropes. Heart failure the cause, not the "kick". He was 26 and the son of a legendary Mexican Luche' Librador.

2. Lisa Colagrossi, Longtime news reporter for WABC-TV 7 New York City dies in a cab ride while on assignment. Brain aneurysm is to blame. She was 49 & the daughter of one of NYC's reputed crime bosses.

3. AJ Pero - drummer of the metal band Twisted Sister dead of a heart attack at 55. Died on the group's tour bus... sorta all twisted up...


To List an item, click here.
54th Annual Art on the Lake

54th Annual fine arts and crafts event along beautiful Lake Guntersville. Over 125 exhibitors with food, fun, and entertainment for the whole family. Saturday, April 18 and Sunday, April 19, 2015 10 am - 5 pm both days. $2.00 Admission (FREE to children 12 and under with an accompanying adult). Proceeds benefit local scholarships. For more info, visit www.artonthelake-guntersville.com

Kelli Stout
The DAYSTAR CHURCH

The DAYSTAR CHURCH now offers "Divorce Care for Kids" – a program designed for ages 6-12 on Wednesday evenings at 7. The course is free and includes workbooks and materials. Contact the church office for more information at 256-737-0800.

BOAZ LIBRARY

The BOAZ LIBRARY is offering an After School Program on the 3rd Thursday of every month through May. The program is open to children ages 6 to 12. Get more information by calling 256-593-3000.

MENTAL HEALTHCARE of Cullman

MENTAL HEALTHCARE of Cullman is asking for donations to their "Emergency Assistance Fund". The number of critical needs cases are up and they need your help. Get details on how you can donate by calling 256-734-4688.

CULLMAN COUNTY ANIMAL SHELTER

The CULLMAN COUNTY ANIMAL SHELTER's "Foster Pets Program" is in need of volunteers able to take the animals to vet appointments. Also, supplies such as cleaning items are need. If you would like to help, contact 256-734-5448. Remember, off-site adoptions available every Saturday from 11 to 4 at Tractor Supply and Pet Depot in Cullman.

SECOND CHANCE ANIMAL SHELTER

SECOND CHANCE ANIMAL SHELTER needs your help. They need dog food, feeding bowls, newspapers, and dog toys. Drop Off/ Collection Center is at Bancorp South in Boaz. For info call 256-561-2411